Ukash is similar to the PaySafeCard because it is also a PIN-based voucher that you can redeem at a bookie which accepts them as a payment method. The only difference being that the PIN consists from 19 digits instead of the 16 in PaySafeCard.
Below you can find information about the best bookies that you can use to deposit money with Ukash.
Bookmakers which accept Ukash
Bookmaker
Founded
Jurisdiction
Bonus
Min. Bet
Max. Bet
Grade
Review

Bet365

2000

UK
£100 in
Bet Credits
£5
Varies
Bet365 Review

888Sport

2008

Gibraltar
£30
£0.1
No max
888Sport Review

Betfair

1999

United Kingdom
£100
£2
No max
Betfair Review

Unibet

1997

Malta
£20
£0.01
Varies
Unibet Review
* T&C's apply. Click on Bet now to view the offer!
Many people prefer using Ukash due to its convenience and the fact that you don't have to give out credit card information. All you need to enter is the Ukash code that is located on the voucher.
There are many different methods of payment that you will find on Ukash's website and you can also use a prepaid MasterCard, but only if you preloaded it before using.
Ukash is available worldwide and you can use one of the fourteen currencies available. The service is regulated by the FSA which means they are completely safe and trustworthy. You can use them for sending money or paying for services through the internet.
How to Use Ukash at Bookies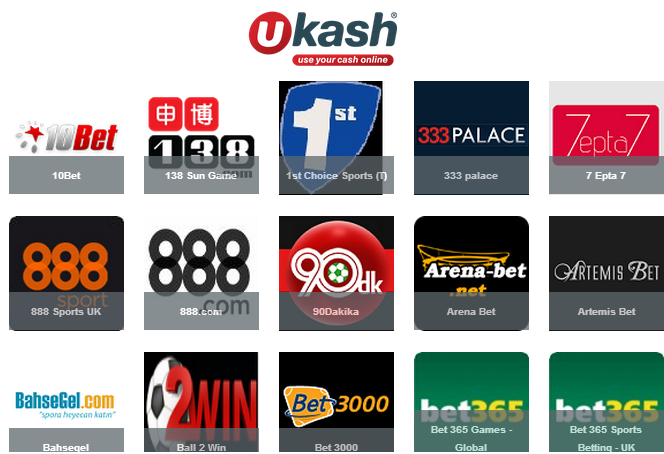 There are many ways to use Ukash at bookmakers, but that depends on the service that you are using.
If you decide to use the voucher service, you will have to find a post office, shop or a petrol station who offer Ukash vouchers. You can be sure that a place which has a sign "PayPoint", "PayZone" or "EPay" will have them. There is also an option on the Ukash website which allows you to search for the nearest place to you which sells their vouchers. After you find it, all you need to do is pay with cash and they will give you a voucher.
When all of this is done, you simply need to find a website which accepts Ukash and spend your voucher there. Almost every bookie will accept your Ukash voucher and the maximal value that you can get in one is £500.
There is also the option of using prepaid credit cards, the most popular being UkashOut and UkashNeo. You can use them as a MasterdCard whenever you see the logo, including some of the biggest online bookmakers.
Ukash Online Security
Ukash can be a very secure online method if you have decided that you don't want to use credit cards. You can pay with regular bills or a debit card, which is the same way that you would pay for products in a regular shop.
The main thing that you should be concerned about is not losing the voucher, because of the 19-digit PIN that you will need to enter when making a money transfer. That is why you need to be just as careful with your voucher as if you were handling your cash. After you have converted the cash from the voucher into the Ukash website, the money can't be stolen and you can use it instantly for whatever purposes you wish.
The voucher can carry up to £500, but the average transaction is usually from £20 to £50. This is much better than giving out your credit card details and losing a lot of money if they fall into the wrong hands. The maximum amount of money that you can lose with the Ukash voucher is the amount you decided to deposit (list of deposit methods which bookies accept). If the voucher gets damaged and you can prove when and where it was bought, you will get a replacement.
The same can be said about the prepaid MasterCards. You can put any sum in there that you want, but most people use a small amount and charge the card when they need it so that if it gets stolen, the loss will be minimal. Even if you become a victim of fraud, Ukash is protecting the prepaid MasterCards and will help with whatever they can.
Ukash History
They operate since 2005 but are also a part of SmartVoucher Ltd, who are located in Macclesfield and have been functioning since 2001.
Ukash continues to grow rapidly and currently has almost half a million places where you can buy one of their vouchers. Their services are available in more than 50 countries, including Australia, Canada and South America. You can select one of the 14 currencies that they provide to their customers.
Blue Label Telecoms Group became partners with them in 2008 and helped them become more popular in South Africa. The company also partners with Microsoft so that they can provide secure money transactions. They are regulated by the UK FSA and possess two offices in the United Kingdom located in London and Macclesfield.
Ukash Associated Fees
The service is usually free for the people who are using Ukash vouchers and even though some merchants can charge a small fee for them, bookmakers don't do that.
People who use the Ukash MasterCard will be charged the same as if it was a normal MasterCard, however, most bookmakers still won't charge you anything.