The Dubai World Cup horse race is one of the recent additions to the biggest horse races in the world, that have been around for quite a while, but  It was created in 1996 by Sheikh Mohammed bin Rashid Al Maktoum, who is the Ruler of Dubai and has a passion for horse racing. He is also the owner of a Thoroughbred breeding operation which is responsible for the breeding of many horses across the world.
Dubai World Cup Horse Race Information
The event takes places yearly at the Meydan Racecourse on the final Saturday in March. The previous venue for the Dubai World Cup was the Nad Al Sheba Racecourse, but it was relocated in 2010 because the construction of Meydan Racecourse was finished. The distance of the race is 10 furlongs (2,000 meters), and the category is Group 1. It is run on a synthetic surface. Northern Hemisphere Thoroughbreds that are at least four years old and Southern Hemisphere Thoroughbreds which are three or more years old can participate in the event. The Dubai World Cup is the richest horse racing event in the world and has a real money prize of 10 million dollars.
Dubai World Cup Night
The Dubai World Cup Night consists of nine races, one of which is the Dubai World Cup itself. The prize money for the whole night is 30 million dollars, and the event is watched by many people across the world. The other races in the Dubai World Cup Night are the Dubay Sheema Classic, Dubai Duty Free, and Dubai Gold Cup.
The located in Asia Meydan Racecourse is known as one of the most advanced courses in the world. It consists of two tracks – the first is 2,400 meters with a turf surface, and the second is 1,759 meters with a synthetic dirt surface. 60,000 spectators can fit in the main stand which is a mile long. There you can find a hotel, restaurants, and a museum dedicated to horse racing. Some of the other events which take place at the Meydan Racecourse include the Dubai International Racing Carnival and the Winter Racing Challenge.
Betting on the Dubai World Cup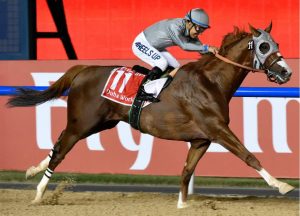 Even though the Dubai World Cup horse race lacks the history of many other big events, it is still one of the most famous horse races, especially regarding the gambling aspect of it. However, it is tough to choose the winner because the best horses in the world participate in the event.
If you want to place a wager, our suggestion is to check the online bookmakers. Betting through the internet is probably the most convenient way if you cannot attend the event itself. There are many good websites which have many markets for horse racing. The big events like the Dubai World Cup receive special attention, and you can benefit from the many betting options that the bookies offer. Plus, as a new customer, you can benefit from welcome bonuses and promotions.
Previous Winners
2016 – California Chrome
2015 – Prince Bishop
2014 – African Story
2013 – Animal Kingdom
2012 – Monterosso
Best Online Horse Betting Sites Events